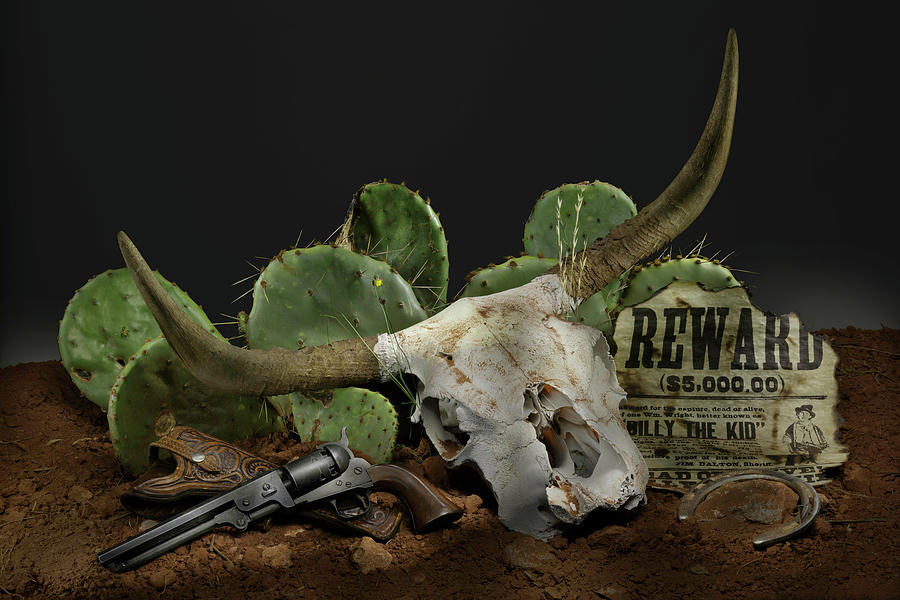 Title
Billy the Kid Lightpainting
Medium
Photograph - Digital Photograph
Description
This was one of the first still life light paintings I attempted after learning the process. All the ingredients came from my house or my pasture, with the exception of the reward poster that was ordered from Amazon, and the antique pistol, which I borrowed from another photographer.

A Light Painted photograph is created in total darkness. The photographic artist takes a
series of images of any three-dimensional subject, (a car, architecture, musical instruments,
airplanes, collections, etc.) from the same vantage point with the camera mounted on a
tripod. Only a small portion of the subject is illuminated with special handheld LED
flashlights in each individual photograph. (Some light paintings may require up to 200 or
more images!) Painting of the subject with the flashlights continues, until the desired areas
of the subject have been completely exposed with varying amounts of light on separate exposures.

All of the resulting exposures are blended together and perfected by hand in a software
program that, when combined with the creative vision of the artist, creates a one-of-a-kind
photographic work of art that reveals a dimension of photography never before seen.

The photo shoot or Light Painting can take anywhere from one to three hours, and the client
is encouraged to be present and participate if desired, in order to foster an understanding
and deeper appreciation of the process involved in creating the unique and amazing image.
When completed, the Light Painting may be printed and framed like any normal photograph,
but the most pleasing result is obtained by printing a high-gloss image on aluminum. The
process of transferring the image onto the metal produces a visual treat that frequently gets
described as stunning, and the print is certain to always be a topic of conversation!
Uploaded
December 9th, 2022
Statistics
Viewed 125 Times - Last Visitor from Warrington, P2 - United Kingdom on 01/30/2023 at 12:54 AM